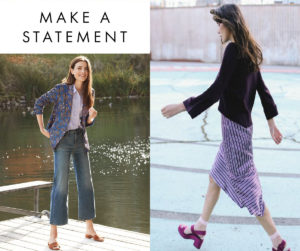 Go to one of the best countries to travel alone and make a statement with pieces from Banana Republic Factory.
If you want to get the attention you deserve while traveling abroad consider going solo. Why go solo? This will also help you spends more time at places of interest. When you go solo you're more likely to try something exciting  and new.
Go to a safe and happy country and consider New Zealand. When you arrive you're in for an adventure: wander in the rainforest, go on a thrilling bungee jumping or hike the Milford Track. Worth mentioning New Zealanders are the friendliest people you'll ever met.
Hike or wander in style comfortably  with Rinse Straight Leg Jean. Lightweight jeans In a mid rise and straight fit with stretchy material to keep moving. Looks great worn rolled up or down with a graphic top, sneakers or boots.
Find active shorts  for hiking and opt for Stretch Sateen 10.5 Bermuda Shorts. Lightweight fabric in a bright color and classic look for versatility. These shorts will make your legs look longer and slim your body. Great constructions shorts in a mid rise and relaxed fit are true to size.
For the safest country consider Iceland. The moment you arrive you feel comfortable. In Reykjavik you can go swimming in the Blue Lagoon or take a ride on an Icelandic horse and see its rugged terrain.
All eyes will be on you when you wear your ultra luxurious Silk-Cashmere Pleat-Sleeve Boatneck. A very feminine sweater that is very soft  and has a light sheen. It will keep you warm and comfortable while in Iceland. Lightweight and breathable to wear on most seasons and get compliments.
Explore and discover new things in Iceland and opt for a Heritage Coat with Removable Faux Fur Lining. The coat is fully lined for great warmth if the temperatures drop drastically. The hood can be unzipped to sailor flaps. The belt makes your waist look smaller and add a more fitted feel.
If you want to go the happiest country Costa Rica should be on your list. Surf your way or go rafting the white waters of Reventazón or Pacuare rivers. For ultra comfort book  a stay at an adventure lodge.
Keep it casual and comfortable and opt for a Stripe Slip Dress. Very flattering dress you can go dressy or casual. In a great below the knee ankle length, tailored fit and subtle v-neck. The straps can be adjusted to liking. Looks great with slides and a skinny belt.
Get ready to hit the beach everyday and opt for Onia; Danni Top in Groove Stripe. A minimalist modern take with clean lines bikini top. Cups can be removed and  straps can be adjusted for more coverage and support. Match with cheeky fit Onia; Rochelle Bottom.
Another happy country is Vietnam. See life more colorful and feel safe while at Ben Thanh market in Ho Chi Minh City. Trek the mountains of the Central Highlands. Relax at Phu Quoc Island and experience the beach life.
Express your love for color and opt for a Sloan Abstract Floral Print Slim Ankle Pant. In a mid rise and close to the body fit to flair your body. Pants have plenty of stretch to move comfortably without restrictions. Looks great with a button down dress blouse and single strap sandal heels.
Find the best fashions and save with your banana republic factory coupon.